A Career in Teaching Exercise to Children
By: Suzanne Elvidge BSc (hons), MSc - Updated: 8 Feb 2013
|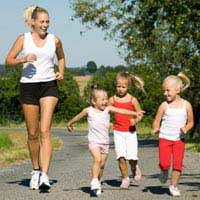 Love exercise? Love kids? Ever thought about combining the two and making a career out of teaching exercise to kids?
With the increasingly couch-based lifestyle that many children have, the worries that parents have about allowing children to play outside, and the growing concerns about obesity, it's important to get children exercising more at fun and imaginative sports exercise classes, whether in schools, at after school clubs, or at sports clubs and in the community at the weekends and in the holidays.
People who will be teaching children are likely to need a Criminal Records Bureau (CRB) check.
Teaching in Schools
One of the ways to teach sports and exercise to children is as a teacher in a primary or secondary school. There are a number of qualifications needed to go into teaching:
At least a grade C in English and maths GCSE (or equivalent standard) for primary and secondary teaching, with a grade C or equivalent in science (primary teaching)
A degree
An initial teacher training (ITT) course to gain qualified teacher status (QTS).
For people who didn't get maths, English and science GCSEs at school, it's possible to get these at evening classes or even study them online. Degrees can be studied full or part-time, and some colleges and universities offer degrees that specialise in sports and exercise. Entry requirements are generally A levels, but some colleges and universities will accept other qualifications and work experience instead. Studying for the ITT course can go alongside studying for a degree, or take place afterwards.
Alongside a Degree
Degree courses on education will lead to qualified teacher status, and some degree courses in a specialist subject also include QTS studies. Degrees usually take three or four years full-time or four to six years part-time.
After a Degree
After completing a degree that doesn't include a QTS qualification, graduates can train to gain a postgraduate certificate in education (PGCE). This is generally a full time course over one year or a part time course over two years, and can include distance learning.
School-centred initial teacher training (SCITT) is generally full-time and takes one year, but will be based in a school and includes a lot more classroom experience and contact with children. Some SCITT courses lead to a PGCE, but all result in qualified teacher status.
Teaching Classes
If teaching in a school isn't a calling, it's possible to teach fitness and exercise to children and young people outside school hours, as after-school, weekend or holiday classes. These classes could be in fitness centres, youth clubs, or in community centres.
Some colleges offer accredited certificates in teaching sports and exercise to children and young people, and these may specialise in certain age groups or in specific types of exercise, and may include health and nutrition as well. Accreditation bodies include CYQ (Central YMCA Qualifications). Look out for courses that are part of the National Qualifications Framework (NQF), including Level 2 qualifications – these allow an entry on the Register of Exercise Professionals (REPs), and may be required for working within fitness centres. The courses may be full- or part-time, and may be studied at a college or online.
You might also like...