Dance and Musical Activity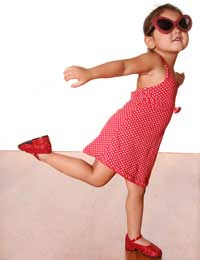 Music has the ability to get even the stodgiest people to loosen up tapping their toes in rhythm in spite of themselves. For children, music is practically magical, with even babies bopping up and down to the beat. Smart parents capitalise on their children's love for music, encouraging their natural tendency to combine music with activity.
Making Music Fun
Young children find their parents to be quite entertaining and unlike teenagers who would likely view family dance parties as extraordinarily lame, three to five year old kids are inclined to enjoy twirling, stomping and dipping with their parents, finding it to be great fun. Impromptu dances with little ones are sure to brighten up the moods of both generations, so parents should take every opportunity that presents itself to play actively, dance, and be silly with their young children. Varying the types of music, as long as the selections are lively enough to promote vigorous activity, will keep things interesting. Parents can take turns with their young kids, leading in some steps and encouraging the children to design their own dances for parents to follow.
Tiny Tots Classes
Many communities offer a variety of classes designed for small children, so parents should check with friends and neighbours for recommendations. Some classes are for children only, grouping kids according to age and/or ability, while others are set up specifically for parents and kids together. Both types are beneficial to kids physically, offering fun and fitness, and the best choice might be to enroll kids alternatively in both types of classes. Classes consisting of only kids encourages their social development, helping kids to form first friendships while they enjoy building strong, lean bodies. "Mummy and me" type classes are long time favourites of parents everywhere, although these days, fathers are getting involved far more than they ever did in generations past. Not only is it good for parents and kids to have fun together, it's very beneficial for children to see Mum and Dad enjoying physical activity -- it helps then to understand that fitness is a lifelong goal.
Videos, CDs, and DVDs
Modern kids have access to an enormous catalogue of videos, CDs, and DVDs, many of which employ music as a way to not only entertain, but encourage healthy exercise. Favourite television characters are readily available on DVD, singing and dancing, and inviting viewers to do the same. Most kids are happy to dance with Boogie Beebies and Tweenies, or just bop along after the Teletubbies, twirling with their colorful television friends. The Wiggles have made kids worldwide stand up to dance. Murray, Jeff, Anthony and Greg have the right idea -- give kids enjoyable opportunities to move their bodies to music and you are able to build the basics of fitness. They tend to stress the value of eating well on their show as well, making them great examples for young kids to emulate. Parents can rent a variety and possibly purchase a few favourites -- music and movement are natural buddies for children. Parents should do all that they can to encourage their children's affection for musical exercise.
You might also like...