Activity Recommendations for 5-12 Year Olds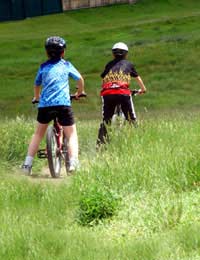 Activity level is an important contributing factor to children's health although many kids today don't get nearly enough exercise. The benefits of regular exercise are plentiful and widely accepted, but some families still rank scheduling time for activity low on their list of priorities. This trend is unfortunate and is putting kids at risk for both short and long term consequences to their health. Kids (and adults, too) need some form of physical activity every day in order to stay healthy and fit -- and parents may be surprised to discover that incorporating sufficient activity into their family's schedules isn't nearly as difficult as they might have imagined.
Finding Age Appropriate Activities
When children are enjoying themselves, they will happily engage in activity for stretches of time that are beneficial to their growing bodies. The job of parents, educators, and others who care for kids is to find activities that are pleasurable while having a positive impact on the children's fitness levels and overall health status. Interests and capabilities change dramatically throughout childhood, so it is important for parents to look for ways to keep their kids active over the years.
Five to Nine Year Olds
Activities for kids aged five through nine should focus on fun, with fitness being a happy side effect. Family time that is active in nature, from bike rides to afternoons at skating rinks will help kids to develop their muscles, improve coordination, gain confidence, and strengthen family bonds. It is also a good idea to allow young kids to try new activities, encouraging their interest in sports by enrolling them in a few classes to help them find a few favourite activities. Finally, this is a good age to begin expanding children's responsibilities at home by adding a few chores that are physical in nature -- kids enjoy being helpful (and as parents of teenagers know, this stage doesn't always last), so parents are wise to include their kids in the maintenance of their homes and gardens.
Nine to Twelve Year Olds
As their social skills develop and friendships take on greater importance in their lives, children aged nine to twelve often enjoy participating in team sports. As long as parents are careful to select programs that are safety conscious and well run, team sports can be great for kids. Self-esteem as well as body image issues can begin to plague kids at this age, though, so parents should be mindful about providing sincere praise and keeping the focus on fun, sportsmanship, and fitness, rather than on winning or developing a specific body type. Preteens are often responsible enough to take charge of caring for a dog, so this is frequently the age when parents allow kids to choose a pet. Walking a dog can be great exercise; in fact, walking is a simple yet effective fitness tool that many people today overlook. Parents often drive their children to school, extracurricular events, and the homes of their friends, long after the kids are old enough to walk to these places. Simply requiring that their children walk or bike ride to their everyday destinations can add a great deal of activity to their lives.
Healthier Futures
Recent studies indicate that the rate of childhood obesity has tripled over the past 20 years. Tripled. Further, on in every ten six year old children is now obese. Current guidelines in the UK recommend that school aged kids get an hour of daily exercise, but experts are now considering boosting the standard to 90 minutes. Even as it stands at one hour, only 10% of kids in the UK are meeting that time for daily activity. It doesn't take a psychic mind to see where this pattern will lead -- in fact, it is estimated that if things remain the same, half of all children in the UK could be obese by the year 2020. Clearly, something must be done, lest our children grow up to be the fattest and least healthy generation in recorded history. This is not a complicated problem and the solution is simple, as well. Kids need exercise and wholesome, nutritious foods in order to grow up healthy and fit. Their futures depend on it.
You might also like...