Gymnastics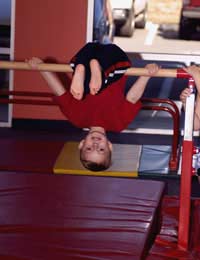 While there are truly endless ways for kids to get the exercise that they need to stay fit and healthy gymnastics remains a popular sport for kids of all ages. Unlike many activities that appeal to only a select group of children, participation in gymnastics is fun for both boys and girls and instruction begins with children as young as two.
Gymnastics Classes
Often, the very first lessons that young children take are basic gymnastics classes. "Tiny Tots Tumbling" introduces little ones to the basic moves involved in gymnastics while keeping the focus on fun. When kids are having a good time, they are likely to want to continue, so young children should never be made to feel pressured to excel. The popularity of gymnastics has made training widely available in many communities. Parents can often find gymnastics classes for their children by asking friends and relatives for recommendations. When choosing a gymnastics coach, parents should seek someone who challenges children to increase their skills while keeping a close watch on them to assure that they work out in a safe manner. Warming up, cooling down, and proper stretching can help kids to avoid injury.
Gymnastic Events for Kids
Gymnasts participate in a number of activities, with specific events typically varying a bit for boys and girls. Traditionally, girls perform on a balance beam, uneven parallel bars, vault, and do floor exercises. Boys also do floor exercises and the vault, as well as parallel bars, horizontal bar, rings, and pommel horse. The demands of all gymnastic events require a level of physical fitness, balance, coordination, and overall conditioning, making gymnastics a wise choice for kids from toddlers to teens.
Gymnastics and Special Needs Children
Most children enjoy playing actively, and gymnastics can be especially enjoyable for kids with developmental delays or other special needs. The social nature of gymnastics classes helps kids to form bonds with other children, yet the exercises themselves are individual so kids are less likely to feel the need to impress their peers than they may in team sports. Studies have shown the benefits of gymnastics for some autistic children, allowing them to get necessary activity and exercise while maintaining a sense of control over excessive stimulation. Autistic kids have difficulty when they are exposed to too much stimuli, but the solo nature of many gymnastics events allows the kids to keep their environmental stimuli to a manageable level. With sensitive coaching and parental support, kids with autism and other special needs can gain confidence while getting fit and having fun.
Benefits of Gymnastics
High impact exercise like those which are involved in gymnastics help to build strong muscles and bones, increasing bone density and lessening the chances of developing osteoporosis later in life. Additionally, kids who get regular exercise benefit in more than the rather obvious physical ways. Confidence and improved body image are added benefits, especially important for older kids and teens, who often struggle with self-esteem issues. Strong, confident kids often excel academically, and are less likely to take part in risky or dangerous activities, such as drinking, smoking, or using drugs. If for no other reasons than those, encouraging children's interest in gymnastics is a smart move for parents.
You might also like...
@shelley. Ask around at your local leisure centres and check any local community notice boards/websites etc. Not all towns have their own gymnastics coaching, but there should be one within short travelling distance for you.
KidsExercise
- 18-May-15 @ 12:55 PM
hello my name is shelley my daughter molly is 11 years old and she really wants to start gymnastics but the problem is i dont know what one to take her to
shelley
- 13-May-15 @ 9:45 PM