Is Your Child Doing Enough Exercise?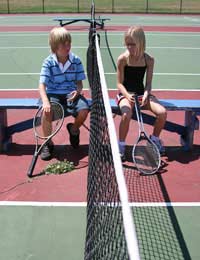 Everyone has heard the guidelines for how much exercise both children and adults should get on a daily basis, and most responsible parents will congratulate themselves that they ensure their child meets this requirement. In today's world, children can be as busy as adults with their clubs and organised sports. But a new study, from American academics, has shed light on how much actual exercise children actually get when they take part in organised team sports, either as part of their training or even in matches.
The study, by academics at San Diego State University and the University of California, has actually revealed that as few as one in four children who regularly play organised sports actually get the required amount of exercise as a direct result of this sport. The guidelines set out by the US Government, which the study refers to, are broadly similar to those which the UK Government sets out and therefore, the American study applies equally to British youngsters. These guidelines are that children should get, in total, an hour of moderate to vigorous exercise a day. When you take into account the time spent running around a playground while at school, this doesn't seem like a lot. So why has the study found activity levels so lacking?
The Report Which Launched the Study
The study was launched after a report by the American Academy of Paediatrics revealed some telling figures to do with childhood exercise levels. It looked into exactly how much exercise children were getting which met the moderate to vigorous requirement. Younger children fare better in the report with about half of them hitting this hour a day benchmark. But teenagers fall by the wayside, with as few as ten per cent of them meeting the Government target.
The Study
The San Diego researchers took this as a starting point for their study looking into activity levels of children who played organised sport. Fitting the children with detectors, they could measure exercise levels during their training sessions. The study looked at football, baseball and softball sessions. Baseball and softball are played far less in the UK than in the USA and are more stationary sports – but the addition of football into the study makes it pertinent for a UK audience. The researchers also took into account family routines and the child's fitness by way a survey which parents filled out.
Children Looked At
The research looked at children aged between seven and 14 and less than a quarter – 24 per cent – got the recommended level of an hour of exercise. The results did vary by sport, and football was the best performing sport which at least bodes slightly better for British children. The most active group were those between aged seven and ten, meaning that the older children got, the lazier and less active they were. Most children spent half an hour of each session of an hour and a half doing nothing, while the most common amount of activity time was just 45 minutes.
Taking on board the study means that those who run children's sessions should pay more attention to all aspects of the children's development. While learning a game and tactics and how to play are important developmental tools for youngsters, physical fitness is too – and that should be borne in mind with perhaps a heavier focus on vigorous activity.
You might also like...