The Walking Bus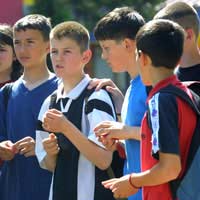 There are many factors that have contributed to the current problem of childhood obesity with lack of exercise being the one most cited. Today's kids are often driven to many of their activities, when just a generation ago, kids typically walked or rode their bikes to the places that they wanted to go. Concerns about their children's safety often keep parents from allowing their children to walk to school, but the Walking Bus offers a safe and healthy way for kids to get to and from school.
How Does The Walking Bus Work?
The Walking Bus is a simple concept that helps kids to meet their need for daily exercise while offering parents the peace of mind that comes from knowing that their children are well supervised by responsible adults. At least 2 adult volunteers walk along with the children, one leading the group while another is placed last in line. The children, donned in reflective vests, walk along predetermined routes that have been approved by a Road Safety Officer, adding kids at "stations" along the way. Typically, children who participate in the Walking Bus are between five and eleven years of age.
Benefits of the Walking Bus
In addition to the obvious exercise benefits, the Walking Bus can provide kids with opportunities to socialise with peers and develop relationships with the parent volunteers. It is beneficial to whole communities when families get to know each other and form friendships, and participation in the Walking Bus gets people out together, helping one another and giving them time to chat. Additionally, beginning the day with a brisk walk outdoors is sure to get kids off to a good start at school, letting them burn up a bit of energy, which research has shown will help them to be calmer, more focused students.
The safety aspect of the Walking Bus cannot be underestimated; parents who might otherwise be reluctant to allow their children to walk to school can relax because the kids are always in groups and supervised by adults. This guidance gives children the chance to learn about road safety rules and safe crosswalk behaviours while under the direction of well trained supervisors. Finally, every less car that is run to transport a child to and from school lessens harmful emissions, benefiting the environment as well.
Getting Started on the Walking Bus
Parents who are interested in having their children participate in the Walking Bus should first inquire at their kids' school to see if the program is already in place there. If not, organising one is fairly simple. The Headteacher can help to spread the word and spark interest in other families. From there, the assistance of a Road Safety Officer can be requested so that routes are well chosen and as safe as possible. The local council can offer advice on matters of insurance, and teachers and coaches can be recruited to encourage participation by the student body. Finally, offering to walk with a group of children sets an example for other parents to follow. Often, once the program kicks off, the groups of children participating in the Walking Bus steadily increases.
You might also like...