Pets as Exercise Partners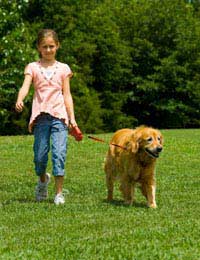 Most kids will at one time or another beg their parents for a pet. Choosing to add a cat, dog, or other animal to the family requires careful consideration since pets need continued care and maintenance and as all experienced parents will attest, at least some (if not most) of the care of family pets often falls to parents. While it is a big decision, there are distinct advantages to having a family pet, not the least of which is the opportunities for exercise that pets bring to family members.
Go Walk the Dog!
Puppies and dogs require regular walks for their health and also to give them outlets for their natural energy, making them better housemates -- and the same could be said for children! Kids and dogs seem to be designed for one another, with both enjoying active playtimes and often objecting to sudsy baths. When considering the purchase of a dog, it is important that parents take the time to see that their kids understand all that is required to properly care for their potential pet, including the necessity for daily exercise, year round and in all but the most extreme weather conditions. Once guidelines for the care of a pet have been covered, though, the addition of a pet can help children to stay active and develop a sense of responsibility that may carry into other areas of their lives.
Pets can Enhance Physical and Mental Health
Many kids today are far too sedentary, spending much of their free time parked in front of the computer or television, but kids who have pets may be inclined to find more productive (and healthier!) ways to spend their time. Getting kids up off the couch and outdoors is good for them not only physically, but emotionally and socially, as well. Kids who exercise their pets on a daily basis get fresh air and exercise, both of which help to relieve stress and anxiety and may stave off mild to moderate depression. And since most children are enchanted by animals, even the shyest kids may be comfortable with the attention that their pet elicits from others, helping socially awkward kids to open up and develop confidence around other children.
There is even some evidence to suggest that families who have pets can greatly reduce the chances that their children will suffer from allergies and asthma. While old school thinking often blamed the presence of animals in a household for childhood allergies, research now indicates that early contact with animals may actually desensitise children's immune responses to pet dander or other possible pet related allergens, making them less prone to developing allergies and asthmatic symptoms.
Lions and Tigers and Bears, Oh My!
While not all children are fortunate enough to have pets of their own, all kids can have imaginary pets and can even pretend to be animals themselves. Young children are often very creative and enjoy emulating the sounds and movements of not only domestic animals, but wild ones as well. Parents should encourage this type of creative play, even leaping like monkeys and galloping like horses with their kids. Activity and silliness are good for kids and their parents -- life can be all too serious at times. What better way to get a bit of exercise, let off some steam, have a good giggle, and forge strong bonds with children than romping with them about the garden, flapping your wings and pretending to fly like a bird?
You might also like...