Encouraging Schools to Incorporate Play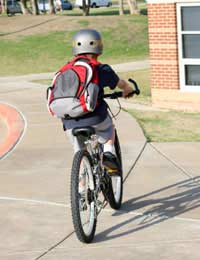 Kids today are far more sedentary than those of generations past and this inactive lifestyle is taking a toll on their health. In their free time many children choose to watch television or videos or play on the computer rather than engaging in active play. Additionally, fewer and fewer schools are prioritising exercise and activity, instead encouraging kids to remain seated throughout most of the school day. Childhood obesity is at an all time high, which is a disturbing fact. One thing is clear -- parents and educators must find solutions so that children do not suffer the long term consequences associated with inactivity and obesity.
Physical Education Classes
Physical education (PE) classes are sometimes considered less important than pure academic subjects and as such, it is not uncommon for schools to limit or eliminate them when funding is tight. Unfortunately, some kids are reliant on PE classes to get the activity that they need for healthy development, so when these classes are cut, the kids (and their health and well-being) are shortchanged. Ideally, every school aged child would participate in a daily physical education class where they are given opportunities to play actively, improving both their short and long term health. Activity should be sustained for the duration of the class, at least 30 minutes for maximum benefit. Realistically, this doesn't happen at many schools and in order for that to change, parents will have to unite and present their objections to school administrators about the educational system's current disregard for children's health.
Petitioning School Improvements
Parents are very influential and their voices can have great impact on school policies. Parent/teacher groups can band to formulate plans regarding incorporating daily activity into the lives of students, with parents offering to help fraise funds, if necessary. Qualified physical education instructors can make an enormous difference in the lives of children, teaching them to employ activity as a way to build muscle, increase physical endurance, improve health, manage stress, improve self-esteem, and develop a healthy body image. In the absence of professional PE teachers, kids should be at least allowed and encouraged to play actively during recess and at other times throughout the day. Short bursts of energetic play are better than all day inactivity, so educators should look for ways to incorporate play into their daily curriculum.
Until Change Occurs
While daily physical education classes may not currently be available to all school aged kids, parents cannot allow their children to remain inactive while they wait for change to take place in the schools. Classroom teachers can be encouraged to seek methods of teaching that employ some activity -- including walking, dancing, and jumping as part of their lesson plans. Parents can also play a part, seeing that their children get ample activity outside of school hours and encouraging kids to walk or tide their bikes to school when feasible. The Walking Bus has proved successful for some children, allowing them to walk in adult supervised groups to and from school. Parent volunteers inside the schools may be able to compensate for the lack of formal physical education classes, too, taking turns guiding children through simple games and exercises. While these solutions may not be ideal, they are a far cry better than sitting back and watching the health of our children decline due to inactivity.
You might also like...