Fun Facts: What Does Exercise Do to Us?
By: Suzanne Elvidge BSc (hons), MSc - Updated: 27 Jan 2015
|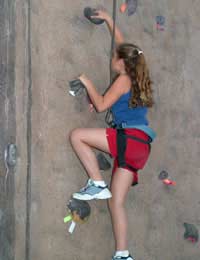 It's good to exercise – experts recommend that children should get 60 to 90 minutes activity every day, and even children with problems such as asthma should still exercise. But why is it good? What does it do for both children and adults?
Weight
Exercise (combined with a healthy diet) helps maintain a healthy weight, which is important for health, and overweight children are more likely to become overweight adults than children of a healthy weight are. Being overweight is linked with an increased risk of type 2 diabetes, high blood pressure, heart disease, stroke, liver disease, certain cancers and joint problems such as osteoarthritis.
There has been an increase in childhood obesity in recent years, and this has been linked to increasingly processed food and reduced levels of activity. Children as young as three who are overweight can show early signs of heart disease, according to a study at the University of North Carolina.
Endurance
Aerobic exercise, such as running, cycling and aerobics improves endurance and keeps the heart, lungs and circulatory system healthy, which protects against heart disease and heart attacks.
Strength
All kinds of exercising improve the strength of muscles, and different exercises can strengthen different muscles, so it's a good idea to combine a number of types of exercise to keep a balance. Strength training can include using free weights, fixed weights, resistance bands, or just body weight. An expert adult should monitor children doing these kinds of exercises.
Core strength (the strength of the stomach and back muscles) helps with balance and can protect against back injury and pain. Pilates is good for improving core strength.
Weight-bearing exercise, such as running and walking, increases bone strength and density, and can help protect against osteoporosis in later life.
Balance
Balance exercises, such as standing on one leg, can improve balance and help with core strength.
Flexibility
Stretching exercises, like dancing, yoga and Pilates, help with flexibility. Being flexible can help recovery from existing muscle injuries and prevent new injuries.
Hand-eye co-ordination
Exercises that involve catching, kicking, throwing or hitting, such as tennis, cricket, rounders, football, basketball and netball, among others, can improve hand-eye co-ordination.
Sleep
Children (and adults) who exercise regularly seem to sleep better. Good sleep is linked with having more energy, better concentration and even improved weight control.
Mood
By increasing serotonin levels in the brain, exercise improves mood. Regular exercise can be as effective as antidepressants for some people in the treatment of depression. Exercise can also help children (and adults) deal with stress and anger.
Concentration and Learning
According to a study published in 'Trends in International Mathematics and Science Study', the academic score of children who exercise regularly seem to improve. They also seem to be able to concentrate better, and are better behaved.
Socialising and Confidence
Exercising can be a great way to meet people and make friends, and can teach children social skills, co-operation and team skills, as well as increasing confidence. And exercising, especially in groups, can be fun too.
Children who exercise often turn into adults who exercise.
You might also like...