Fun Exercise Facts: How Far is It?
By: Suzanne Elvidge BSc (hons), MSc - Updated: 25 Jun 2010
|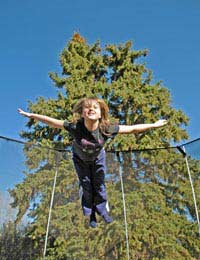 Ever wondered how far it would be to swim the channel or how many jumps would take you to the moon?
Swimming
Want to swim the channel but don't want to risk the waves or get cold, or don't want to do it all at once? At its narrowest, the English Channel is 34 kilometres wide. Most swimming pools are 25 metres long – so swimming 1360 lengths is the same as swimming the channel. The Thames is about 338 kilometres long – this would be about 13,520 swimming pool lengths.
Walking
It's about 1,341 kilometres from Land's End (the most south-western point of England) to John O'Groats (the most north-eastern point of Scotland) by road. The average stride is about 75 centimetres, so this journey would take about 1,788,000 (over one and three quarter million) strides.
Most people walk at about 4.8 kilometres an hour (3 miles an hour) – if it was possible to walk from Land's End to John O'Groats at this speed without stopping to eat or sleep, it would take about 279 hours (or just over eleven and a half days). The record for actually running between the two places is nine days.
Bouncing
Some athletes can bounce eight metres high or more on a trampoline, but most people will only reach one or maybe two metres high. The moon (at its closest) is 384,392 kilometres away – so bouncing to the moon would take 192,196,000 to 384,392,000 (about 192 to 384 million) jumps for a beginner, or 48,049,000 (about 48 million) jumps for an athlete.
Climbing
Mount Everest is 8848 metres high. If a loft ladder is 3 metres high, climbing into the loft 2950 times would be about the same as climbing Mount Everest. If that seems too far, the Eiffel Tower in Paris, France, is 324 metres high – that would be only 108 trips up into the loft.
Pedalling
The distance a bike will go with one turn of the pedals depends on the size of the bike wheel and the gear that the bike is in. If five turns of the pedals moves a bike forwards by 2 metres, and it's about 134 kilometres from Oxford to Cambridge by road (avoiding motorways, of course) that would take about 67,000 turns of the pedal.
Jumping
The world record for the long jump was last broken in 1991, and is held by the US athlete Mike Powell, at 8.95 metres. New York to San Francisco is about 4675 kilometres – this would be about 522,346 world record long jumps (about half a million).
Javier Sotomayor from Cuba holds the world record for the high jump. He broke the record in 1993, at 2.45 metres. The highest point in Cuba is Pico Turquino (2005 metres) – this would be about 818 world record high jumps.
Running
The average running stride for men is about 1.5 to 2 meters. So, running around the equator of the world (ignoring the fact that a lot of it is water…), which is about 40,074 kilometres, would take 20,037,000 to 26,716,000 (20 million to almost 27 million) steps.
You might also like...