Exercise in Pregnancy
By: Suzanne Elvidge BSc (hons), MSc - Updated: 25 Jun 2010
|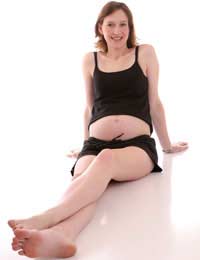 Exercising in pregnancy is just as important as exercising at any other time. Exercise can increase energy, is good for muscle tone, and improves strength and endurance – all useful for childbirth and for getting back to normal after the baby is born. Exercise can also improve sleep and mood, and help with self-image. Exercise can also reduce back pain associated with pregnancy.
Be careful with over-straining joints and muscles, as the hormones during pregnancy that allow the uterus to expand can act on other muscles, joints and ligaments as well. Watch out for changes in balance, as the weight of the developing baby will affect this, and get up slowly and carefully. Avoid exercises that risk falls, such as horse riding, skiing and gymnastics, and think about stopping cycling when six months pregnant.
With all forms of exercise during pregnancy, drink plenty of water, and don't overdo it – stop if it becomes painful or causes blurred vision, dizziness, nausea, more swelling of hands, feet and ankles than usual, vaginal bleeding, contractions or shortness of breath (when exercising, it's an idea to try to keep to a level that allows conversation).
Women who have very high blood pressure, waters that have broken early (premature rupture of the membranes – PROM, an incompetent cervix, vaginal bleeding, a baby that is small for dates (IntraUterine Growth Restriction – IUGR), placenta praevia (low-lying placenta), heart disease, joint or back problems, or who are at risk of having a premature baby should talk to a doctor or nurse before exercising.
Pelvic Floor Muscles
Exercise can also reduce the risk of bladder and bowel problems after birth. The pelvic floor muscles support the bladder, bowel and uterus, and help with urinating and bowel movements. Pregnancy can weaken the pelvic floor, leading to stress incontinence (leaking urine when coughing, laughing or sneezing), sex that is not as good, and even prolapse (when the uterus slips out of place).
Exercise pelvic floor muscles by squeezing (the action is like trying to stop urination mid-flow, and it feels like a 'lift' between the vagina and back passage) without using stomach, leg or bottom muscles or holding the breath – do these anywhere and any time (and carry them on after pregnancy too).
Pilates
Pilates strengthens stomach and pelvic floor muscles, which will help pregnancy, childbirth and beyond. It's best to find a teacher with experience in teaching pregnant women, or a pregnancy Pilates class.
Yoga
Yoga is relaxing and low impact, and keeps muscles toned. It also improves breathing techniques, which may help keeping calm during childbirth. Talk to the teacher to see if he or she has experience with yoga in pregnancy, or find a pregnancy yoga class.
Avoid exercises that stretch the abdominal muscles too much, and avoid laying flat on the back later in pregnancy, as this can reduce the blood flow to the brain and uterus.
Walking
Walking is an easy, low-cost and low impact form of exercise, and it's probably the simplest to fit into the daily routine – try getting off the bus one stop earlier, parking on the opposite side of the supermarket car park, or going for a walk in the lunch hour. Build up to a brisk 20 to 30 minute walk about three times a week.
Wear comfortable and supportive shoes, avoid very hot or humid weather, and watch posture as the baby grows and gets heavier.
Swimming and Aquarobics
Swimming is good for strength and stamina, and improves circulation. As the water supports the weight of the growing baby, swimming is safe to continue all the way through pregnancy. Aquarobics allows aerobic exercise with the support of water.
Low-Impact Aerobics
Low-impact aerobics helps fitness levels and improves muscle tone, but avoid kicking and fast movements, and don't overheat.
Talk to the teacher to see if he or she has experience with aerobics in pregnancy, or find a pregnancy aerobics class.
Weight Training
Weight training tones muscles and helps with stamina, both of which will help in childbirth. Talk to the trainers to see if they can advise with weight training in pregnancy.
Avoid breath holding when pushing or lifting, and lift light weights slowly and smoothly. Exercise sitting down rather than standing up, to stop blood pooling in the lower legs, potentially causing dizziness and leading to varicose veins.
Running
Running in pregnancy is really only suitable for regular runners. Modify distances and intensity as required, and watch for injuries. Keep to flat surfaces to reduce the risk of falling.
Seek advice from a nurse or doctor if you are at all unsure.
You might also like...