Fitness for the Asthmatic Child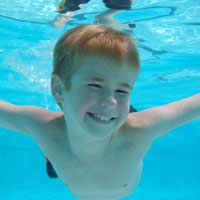 All children need regular exercise and activity for proper growth and development but certain health conditions can give parents cause for concern regarding their children's activity level. Asthmatic children benefit from exercise, but depending on each child's specific triggers, workouts and active play must be well-chosen.
Exercise Induced Asthma
Many parents fear that exercise will trigger an asthmatic attack, and indeed, activity can spur attacks in vulnerable children, especially those whose asthma is not well controlled. The term "exercise-induced asthma" is often misunderstood, with some fearing that exercise can cause asthma in an otherwise healthy child, which is completely untrue. Children who are already asthmatic may experience acute asthmatic attacks when playing actively, but exercise does not cause asthma. Children who find that exercise triggers their asthma can take steps to lessen the chances that they will have problems by strictly following the instructions on their medications and taking additional medicine before exercising, if advised by their doctor. Additionally, while warming up is recommended for all children, it is especially important for those with asthma.
Choosing Activities for Asthmatic Children
Although there are no exercises of sports that are completely off limits for kids with asthma, some activities are more likely to be well tolerated than others. Indoor swimming is a particularly good choice because the temperature and humidity level of the environment are consistent, although over-chlorinated pools may pose problems for some kids. Warm, moist air is considered preferable for asthmatics, with cold, dry air being a source of irritation to the already sensitive air passageways. In addition to swimming, yoga is highly recommended since it helps kids improve their breathing and has a relaxing effect. Fitness classes are good choices, as well, especially when participants are allowed to take brief breaks between exercises.
Activities and sports that require constant activity with little time for rest such as running or cycling are those most likely to bring on an asthmatic attack, but again, with appropriate use of medication and proper warm up, many asthmatic kids can participate in virtually all types of activities.
Safety for the Asthmatic Child
Severe asthma attacks can be frightening for both children and their parents, and on rare occasions, can even be deadly. Teachers and coaches should be made aware that a student in their care is asthmatic so that they can be alert to signs that the child may be having trouble breathing. Asthmatic children should be actively involved in their own care programs, being made to understand the things that they need to do to minimise the chances of experiencing an acute attack and knowing how to help themselves when they notice symptoms. Many children with asthma carry fast acting inhalers so that they can get immediate relief if they feel an attack coming on. Symptoms of an asthmatic episode include:
Wheezing
Shortness of breath
Tightness in the chest
Coughing
Fortunately, most children who have quick access to a bronchodilator can head off symptoms before they become serious. While kids need to know how to handle their symptoms, parents should be careful not to frighten their asthmatic children or shelter them from real world situations in hopes of avoiding asthma attacks. All children need to exercise, and activity that helps to build lung capacity can be especially for children with asthma.
Limiting Asthmatic Attacks
While there is nothing that parents can do to assure that their asthmatic children do not experience difficulties with their asthma, there are some steps that can minimise the chances of an episode.
Since many kids with asthma also suffer from allergies, parents should have their asthmatic children tested for common allergens and then take steps to limit their children's exposure to any problematic allergens.
Colds and other respiratory infections can cause problems for kids with asthma, so teaching kids to wash their hands regularly is wise (and not just for asthmatic kids!) to help minimise the chances that they'll pick up viruses.
Emotional stress can bring on asthmatic symptoms for some kids, with excessive crying likely to result in an attack. While kids cannot (and should not) be catered to in order to avoid feeling any negative emotions, teaching them relaxation techniques and coping skills can be quite helpful.
Fit and Healthy Asthmatic Kids
A recent study published in Medicine & Science in Sports & Exercise confirmed the need for asthmatic kids to exercise. It concluded that kids who exercise properly and under the supervision of responsible adults actually see a marked improvement in the management of their symptoms. Conversely, asthmatic kids who are refrain from activity for fear of bringing on symptoms experience physical deconditioning over a period of time, contributing not only to worsening symptoms of asthma, but a decline in overall health.
There is no doubt that parents have a right to worry about their asthmatic children – all parents worry about the health and safety of their kids. It is important for them to remember, though, that providing children with opportunities for exercise and active play benefits the children's health, decreases their asthmatic symptoms, improves their coordination, builds self-confidence, and allows then to flourish, socially. Fitness is vital for all children, and asthmatic kids are no exception.
You might also like...