Getting to the Olympics: Kids and Competitive Sport
By: Suzanne Elvidge BSc (hons), MSc - Updated: 17 Jun 2010
|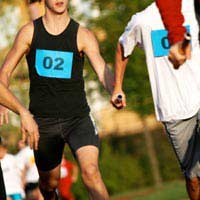 The summer and winter Olympic Games, which alternate every two years, are the pinnacle of many athletes' careers, and a lot of young people involved in sport have ambitions to be at the Olympics one day. But are competitive sports good for children, and is the aim of the Olympics a realistic goal?
Competitive Sports: The Pros
Competitive sports will stretch children's abilities and offer them challenges and goals, as well s helping their social and leaderships skills, especially if they are part of a team or a club. Winning or improving on personal bests will give children a sense of achievement and improve their self-esteem. Not winning can also be a useful lesson to learn.
Competitive Sports: The Cons
For children that are not naturally sporty, competitive sports can put a lot of pressure on them, potentially leaving them with a sense of personal failure. For children that have a talent in sport and want to excel, training to be an elite athlete can take up the majority of their free time, which can have an impact on their school work, and leave them with little unstructured time for relaxing and hanging out with non-sporty friends. For more information about competitive sport, see 'Should Kids Do Competitive Sports?'
About The Olympics
The Youth Olympic Games, which began in 2010 in Singapore, are open to athletes aged 13-18. The 1st Winter Youth Olympic Games will be in Innsbruck, Austria in 2012, and the 2nd Summer Youth Olympic Games will be in Nanjing, China, in 2014. The next summer Olympics will be in London in 2012, followed by the Commonwealth Games in 2014 in Glasgow, and then the 2016 Olympics in Rio de Janeiro, Brazil. The next Winter Olympics is in Sochi, Russia, in 2014.
Becoming an Olympic Athlete
The Youth Olympic Games could be a stepping-stone for the main summer and winter Olympic Games, and competitors for these are likely to be selected about 18 months beforehand.
In the Olympic Games, team members are selected for their potential to win medals for the country. Before selection for the Olympic Games, most athletes have been active in their sport for around ten years, and have attained world rankings in their particular sport. Not all Olympic athletes are adults:
Marjorie Gestring (13) won a gold in springboard diving at the 1936 Berlin Olympics.
Bob Mathias (17) won a gold in the men's decathlon at the 1948 London Olympics.
Dmitry Nelyubin (17) won a gold in the men's cycling at the 1988 Seoul Olympics.
Fu Mingxia (13) won a gold in the women's platform diving at the 1992 Barcelona Olympics.
Lipinski (15) won a gold in the women's figure skating at the 1928 St Moritz Winter Olympics.
Barbara Pearl Jones won a gold in the women's relay at the 152 Helsinki Olympics.
Keeping Training
Being any kind of competitive athlete, but particularly having an aim to be an Olympic athlete, involves dedication and commitment to long and regular training schedules. This can mean missing out on other activities and sacrificing a lot of free time, both for the child and for the parent. Unless the athlete or club can find a sponsor to pay for equipment and coaching, training to be an Olympic athlete can also be very expensive.
Getting Used To Competitions
There will be a lot of pressure at an Olympic event, so it's important to get used to the stresses of competitions, including the nerves and the distractions of the crowd. This could be through mock competitions, or
Other Ways to the Olympics
Many people volunteer at the Olympics, and the London 2012 Olympic Games and Paralympics will need around 70,000 volunteers, both before and during the event. Get a taste of the Olympics without all the training!
You might also like...