Exercise & Body Image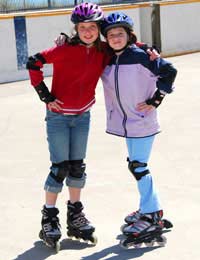 Teenagers have always expressed concerns over their bodies often comparing themselves to their peers in a negative way, but these days, younger and younger kids are struggling with these same doubts. Additionally, what was once considered a largely female issue now affects both genders, with boys expressing nearly then same level of insecurity about their bodies as their female counterparts.
External Influences
Kids today are barraged with unrealistic images of the "perfect body." Pop stars, actors, and even professional athletes often present unrealistic images that kids tend to see as ideal, making them feel inadequate when they look into the mirror and see normal, healthy bodies. Glossy magazines are brimming with images of models and celebrities, most of whom are thin but who may or may not be healthy. Kids and teens are not yet savvy enough to realise that often, these images have been touched up to shave off a few (or even many) pounds and to correct any other perceived "flaws," giving the impression that these famous people have perfect good looks. What's more, kids tend to ignore stories about how certain celebrities have taken extreme measures to maintain a certain weight, putting their health at risk. Some kids tend to take these things at face value and believe that to look different than the images that they see is to have somehow failed. Parents need to do all that they can to educate their children about reality vs. fantasy when it comes to celebrity image.
Strong and Confident
Regular exercise builds muscle, improves coordination, and enhances overall health, but it can be of great help in developing confidence and a healthy body mage, too. Exercise even lessens symptoms of anxiety and mild to moderate depression, replacing negative emotions with more positive feelings. Kids and teens who get plenty of exercise find that they are calmer, more focused, and develop bodies that look great in swimsuits, a factor that is important, especially to teens, no matter how much parents try to convince them to look beyond their physical appearance. The increased skills that kids get from participating in sports helps to boost their overall confidence, which then spills over into other areas of their lives, as well.
Building Inner Confidence
Parents and other adults in children's lives play important roles in helping kids to feel good about their bodies. Not only do kids look to their parents for assurance that they are doing the right things, they look at the actions and attitudes of their parents in modeling their own behaviours. Suggestions for helping kids to develop healthy body images includes:Offer praise and encouragement for making healthy choices regarding exercise and active play. Also, parents should express that activity is a normal part of a healthy lifestyle, making exercise a part of their family's lives.
Parents should avoid talking negatively about their own bodies and their children's bodies. If changes need to be made (weight loss or gain, for example), they should be presented as ways to improve health and vitality, rather than a means toward achieving a certain weight or clothing size. Additionally, parents need to understand that their children's bodies will naturally undergo many changes as they grow and develop, and they should never express any negative attitudes toward these normal fluctuations in weight and body shape.Kids should be educated about the benefits of healthy foods and active lifestyles, with parents priortising their own health and the health of their children.
Parental Influence
Parents shouldn't underestimate their ability to influence not only their children's behaviours, but their attitudes, as well. Kids (and especially teens) may not always admit it, but parental approval is important to them. Parents should be careful to send the message that the "perfect body" is a strong, healthy one.
You might also like...