How Young Should Children Start Exercising?
By: Suzanne Elvidge BSc (hons), MSc - Updated: 18 Mar 2010
|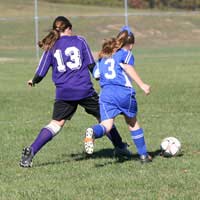 It's a good idea to get children started with exercise early, as they are more likely to carry it on into adult life. It's important to make sure that it is the right kind of exercise though, as exercise that is too strenuous or repetitive can damage growing children, and getting children involved in sport that is too competitive, or in too many different sporting activities that take up too much time, can put them off sports for life. Exercise for all children, but especially small children, should be fun. It's also something that a family can all do together.
All children should aim to get 60 to 90 minutes of physical activity a day, and this can range from simple outdoor play to more structured sports and dance classes.
Babies and toddlers
Babies can enjoy gentle exercise such as swimming (see 'Exercise for Babies: Yoga and Swimming'). Babies should be encouraged to move around, reach out for toys, and roll over, rather than being strapped into chairs and strollers for long periods. Toddlers should be encouraged to walk (even though it's slow) rather than travelling in a buggy all the time, and can get a lot of their exercise through play, either indoors or out.
Early Years at School
Young children can a good amount of the exercise they need by playing outside, even when it's chilly- just make sure that they wear plenty of layers, which they can take off if they get too hot, and avoid them getting too wet or cold. Playing catch helps with co-ordination, hopping, standing on one leg and riding a bike helps with balance, and playing with family and friends will help with sharing and social skills. On wet days, games indoors will provide a bit of exercise, but make sure that there is a safe space to do this.
Older Children and Teenagers
Older children and teenagers are more likely to be involved in sports or dance clubs and lessons, including competitive sports. These can be good ways to keep fit, make friends and learn social and team skills. Some children may not want to take part in sports activities – this could be to do with peer pressure, with not wanting to get hot and sweaty, or being afraid to fail in front of classmates or friends. It's important to find a form of exercise that these children can enjoy – perhaps using an exercise DVD at home, running in the park, walking the dog, or just walking or cycling to school or college rather than taking the bus or getting a lift.
Pushing Things Too Far
Exercising too much can cause damage to bones and muscles, especially in growing children. It can also put too much pressure on them, psychologically. Children need down time, and the chance to relax or enjoy unstructured play, rather than too many structured hours of sports activities.
Over-exercising, especially in a teenager, could be associated with an eating disorder – seek advice from a doctor.
You might also like...