Activities for Girls Who Are Reluctant to Exercise.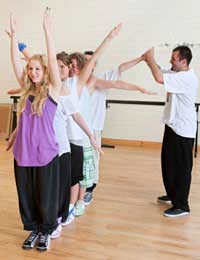 A stereotype it may be, but it is true that boys are more inclined to be sporty than girls. But plenty of parents will rejoice at having sporty girls, as they too do not have to be encouraged to exercise and gladly use all of their free time to sign up to the school football, netball, hockey and volleyball teams. But there may be some girls – especially as they hit their teenage years – who are reluctant to exercise. This could be for a variety of reasons, and if you want to help your daughter to find a type of exercise she loves, the first thing to do is to establish why she is so reluctant to exercise in the first place.
Scared of Looking Silly
For girls, being scared of looking silly is a big factor – do not underestimate it. They may not want to take part in sport because they think they are no good at it and will look a bit foolish if they try to take part. The simple solution here is to choose something to sign them up for which they do enjoy and will help them keep fit without necessarily being a sport. Dance lessons are a particularly good example as girls usually like to dance and therefore, will be more keen to learn how to do it properly. And doing it properly means they will get fitter and lose more calories as a result.
None of My Friends Do It
This is a trickier reason to overcome and a very prevalent one in young women, especially if they do not have any friends who are boys. If they do – job done, ask if they can go along with him to his next training session and see what options there are for girls. If not, then the trick is to make them know that they will make new friends at a sports club. Not to take the place of their existing friends but to supplement them. This is harder to prove because they have to actually be convinced to go along first, but if you test out a few places to see what the welcome is like, and choose one where everyone is friendly, your daughter may well go back.
It's Boring
Sadly, a familiar refrain and one which has just cause after years of uninspiring PE lessons in the more popular sports. Some PE teachers are wonderful and some are dreadful and if you have been on the receiving end of a dreadful one, you will not feel like taking up their sport after school. So, search out unusual clubs which will spark your child's attention. Think archery or fencing – something which cannot be said to be boring before they have even tried it.
Of course, the list of reasons teenagers – male and female – will give to avoid sport are endless. They may not want to mess their hair up or get sweaty. But one fact above all remains. If they are concerned about their appearance in any way, the very best way of making sure they look their best at all times is to eat well and get plenty of exercise. Impress this fact upon them well enough and see how quickly they start running three miles before school!
You might also like...