Getting & Staying Motivated to be Fit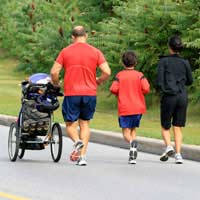 Fitness is important for kids of all ages. Parents are aware that their children need to exercise and be active in order to stay healthy and fit but they sometimes find it difficult to provide the motivation that kids need to choose an active lifestyle. Struggling with issues of setting goals and following through are common to all people to some degree and when it comes to making the choice to be healthy and fit, many people find it hard to resist unhealthy temptations.
Fitness is a Family Issue
It can be very difficult for parents to convince their kids to eat well and exercise if the parents themselves fail to make fitness a priority in their own lives. The first step toward motivating kids is for parents to dedicate themselves to living in ways that they hope their children will emulate. Ideally, parents should stock a healthy fridge and cupboards, make time for regular exercise, and make everyday choices that promote fun and fitness for themselves and their children. Everyone is more likely to stick to a workout plan if it is pleasurable rather than boring. Scheduling active family outings is a great way for parents to help their kids to develop the exercise habit.
Encourage Goal Setting
As kids mature, they are able to decide for themselves what fitness goals matter most to them. Some kids may simply want to be healthy and energetic, while others may hope to excel in a specific sport. No matter the goal, parents should help their kids to define both their short and long term fitness goals. For example, kids may want to learn to swim in the short term and hope to make their school's swim team in the future. Being clear and specific about the desired results can help kids to work toward their goals. All family members should choose a fitness goal that they can work toward, helping and encouraging each other along the way.
Formulate a Plan
Once each individual's fitness goals have been determined and written down (putting it down on paper can help kids to feel committed to their goals), it's time to make a plan for achieving the objective. Usually, a number of steps are required in order to be successful, so sitting down with pen and paper (or keyboard and screen!) to formulate a plan of action is in order. In the example above for a prospective swim team member, the steps might include:
Check to see about local swim lessons.
Schedule time for lessons and additional practice sessions.
Get a physical exam to be sure that the child is healthy enough to train for the swim team.
Plan healthy meals and snacks that provide adequate calories and nutrients for healthful energy and stamina.
Staying on Track
The enthusiasm common to embarking on a fitness plan can wane with time unless families keep track of their progress and remind themselves of their short and long term goals. Keeping fitness journals can be quite helpful, allowing kids to look back and see how they've progressed, encouraging them to stick with their plan when they may feel inclined to give up. It's also helpful to reward each step forward, making it easier to stay on track. For instance, the child who is learning to swim may be rewarded with a new swimsuit once they've mastered three new strokes. Finally, families that act as cheerleaders for each other are likely to stick to their fitness goals -- feeling that others have confidence in them can help kids to have confidence in themselves.
Nobody is Perfect
Even the most dedicated kids will sometimes skip workouts or indulge in unhealthy foods. Slipping up is natural and kids should be encouraged to simply get back to their plan as soon as possible. Focusing on the progress made rather than the occasional misstep will put kids in a better frame of mind to keep their goals in mind. Visualization and positive thinking shouldn't be underestimated; the power of keeping an optimistic attitude can take kids far. With proper support and encouragement, that little swimmer may just become a medal winning Olympian some day!
You might also like...