Join a Walking Bus Group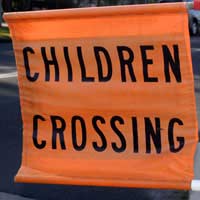 Experts agree that one of the best forms of exercise is walking, so children should be encouraged to develop the habit early in life. Walking to their regular leisure activities as well as being the preferred method of school transport is wise, helping kids to establish healthy attitudes toward daily exercise that they will hopefully continue all through their lives. One of the most convenient ways to get kids upon their feet is to have them participate in the Walking Bus group at their school.
What is the Walking Bus?
Simply put, the Walking Bus is an organised method of transporting kids safely to school and back in well-supervised groups. Many schools already have such programs in place, but for those that do not, beginning one is a simple undertaking. A Road Safety Officer is typically consulted regarding route selection, ensuring that groups of children get to and from school in the safest manner possible. From there, parent and teacher volunteers walk with the children, who wear reflective vests for increased safety, and gather children along the way at pre-determined stations. A minimum of two adults, one placed at the front and one at the rear of the line, walk with the children at all times.
Encouraging Participation in Walking Bus Groups
Today's kids are often accustomed to being driven most places, so parents may experience some initial resistance from their children when prompting them to join a Walking Bus group. While well-meaning parents have been rather permissive about allowing their kids to expect rides, the decrease in activity levels common in this generation of children is a great contributing factor to the rise in childhood obesity. Overweight kids are at increased risk for developing diabetes and heart disease, both in their early years and as they grow into adulthood. Getting kids to be more active, even if it means forcing them to a degree, is beneficial to their overall fitness and long term health, so parents might want to stand their ground by refusing to provide rides for simple everyday tasks such as school transport and leisure activities.
The Importance of Parent Volunteers
The Walking Bus cannot exist without adult supervisors, so parent volunteers are a vital part of the program. Parents and other responsible adult members of the community are needed to oversee the children as they are walking their routes to and from school, and the more volunteers available, the more likely it is that Walking Bus programs will be maintained. At home mums may comprise the majority of the volunteer staff, but working parents may be able to participate, as well. Availability in either the morning or afternoon shift is sure to be appreciated, even if volunteers are not able for both.
Advantages of The Walking Bus
In addition to improving childhood obesity statistics, there are additional benefits from joining a Walking Bus group. Studies prove that kids (and adults, too!) who get sufficient exercise are less likely than their peers to suffer from anxiety and depression, both commonplace maladies in today's society. Kids also enjoy relaxed socialisation as they walk in groups to school, and when parent volunteers interact with the children, they encourage strong community bonds.
From a safety standpoint, the Walking Bus is a far superior alternative to children walking independently. Many parents express reservations about allowing their young kids to walk alone, fearing not only the possibility of children being exposed to traffic dangers, but also the prospect that they may be approached by unsavory characters. Adult volunteers assure the children's protection from outsiders and help to teach kids about traffic safety. As an added bonus, parents who encourage their kids to walk to school can feel good about decreasing the amount of pollutants that they contribute to the air by running their cars a bit less!
You might also like...