Fun at Camp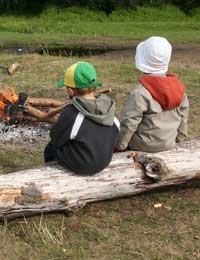 Many adults have fond memories of childhood summers at camp and hope to provide their children with opportunities to attend camp too. Summer camps are no longer only about hiking and swimming in a lake; today's kids have abundant choices available to them, making it easy to find a camp that offers activities tailored to their individual interests.
Traditional Summer Camp
While there are many types of camps from which kids can choose, traditional camps are still quite popular. Kids are introduced to life in the great outdoors, staying in rustic dorm-style buildings or small cabins that house groups of children. For entertainment, traditional summer camps typically rely on nature walks, swimming, craft projects, and evenings around campfires, sharing stories and singing songs. Many kids enjoy this type of camp experience, especially those who live in urban areas and don't get to spend much time in the country.
Specialty Camps
Specialty camps are readily available for kids who prefer to have a focused experience based on an existing interest or as an introduction to a new one. Activities centre around a theme, such as art, tennis, water sports, science, or golf. With thousands of possible activities and themes, there is certainly something to entertain most every child, no matter their individual preferences. Popular camp sessions may fill up quickly, so parents should begin discussing the possibilities with their kids well in advance.
Day Camp or Residential?
There are a number of factors that must be considered when choosing a summer camp for children. The age and ability of a child to successfully separate from parents can be a major concern for parents choosing camps, especially for first-time campers. Many families try day camps rather than residential camps in the beginning, offering kids a camping experience while allowing them the peace of mind of knowing that they will return to the familiarity of home for the night. In time, most children will be ready for a week at a residential camp.
Safety First
Quality camping experiences offer kids of wealthy of opportunities for learning, fun, exercise, and socialisation. It's vital that parents do their homework before enrolling their children at a camp, though, to be sure that their kids will be safe and well tended when they are placed in the care of the camping staff. Camp counsellors should have appropriate training in child care, as well as being certified in CPR and first aid techniques, and medical care needs to be readily available in case of emergency. Camps should make their safety records available to prospective clients and should be willing to offer a number of previous client referrals. Once parents have conducted at least one phone interview with a camp that they are considering, they should make an effort to visit the camp personally, touring the facilities and talking to camp employees. Parents need to feel assured tat the camp provides proper supervision for little campers, with an adult to child ratio that allows plenty of focused attention.
Important Considerations
In addition to basic safety, there are other issues that parents should look at before settling on a particular camp for their children. Some parents prefer that their children attend single gender camps, while others are comfortable with a co-ed experience. Location can be an important factor, especially if parents hope to visit during their child's stay. If extensive travel is required, those expenses should be factored into the total cost of attending camp. Finally, the fees charged by the camp itself need to be discussed thoroughly to be sure that there are no hidden or "extra" costs not included in the tuition fees. While most camps offer an "all-inclusive" approach, some charge extra for some classes or activities. When a camp is carefully chosen for its ability to meet the needs of an individual child, the experience can be one that parents and kids both view as positive and rewarding.
You might also like...