Sports Camps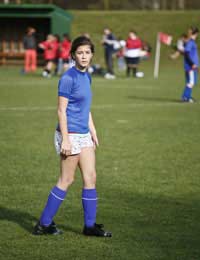 Many kids look forward to heading off to camp every year and with the great variety of specialty camps available, there is truly something to suit everyone's needs. Sports camps are more popular than ever, offering kids opportunities to hone their skills in their favourite activity.
Choosing a Sports Camp
Finding just the right camp can take a bit of time, so parents should begin their search well in advance of their desired time slot. If parents have friends or family members who have sent their children to sports camps, personal references would simplify the process since no glossy brochure or fancy webpage will paint you as accurate a picture as stories from someone who has attended. In lieu of a personal recommendation, a quick internet search is the best place to begin. Narrowing the field by favoured sport and geographic preference will usually limit the list to a handful of potential camps. From there, parents can compare the contenders in order to select the camp that best meets their family's needs. Once the list is short, a few phone calls are in order and from there, parents should try to visit the first choice camp in person, if it is feasible to do so.
Factors to Consider
It is natural for parents to want their children's sports camp experience to be fun and meaningful, offering not only instruction and assistance with improvement in athletic skills, but opportunities for positive social interaction, as well. There are a number of things that parents should keeping mind when comparing sports camps for their children.
Staff Attitude: All members of the camp staff should be focused on assuring that kids gain a sense of accomplishment during their stay at sports camp. No matter what level of play the kids are at, they need to feel that they have taken with them some valuable insight toward improving their game.
Staff Qualifications: Sports camps need to hire coaches and counsellors who have experience in the specific sports field of the camp's theme. It sounds obvious, but not all camps hire well qualified coaching staff, so parents need to ask about the background experience of staff members.
Staff to Camper Ratio: No matter how dedicated coaches and other camp employees may be, if their time is stretched too thinly, they will not be able to give each camp attendee the attention that they deserve.
Grounds and Equipment: While a sports camp doesn't have to be fancy or ultra-modern, the facility, grounds, and equipment should be clean and well maintained. Sleeping quarters and kitchens need to be considered, too.
Emergency Readiness: While no one wants to think about their children being ill or injured at camp, accidents to happen and since parents will not be on hand, they need to know that camp staffers are equipped to handle emergencies. Camp counsellors must be certified in CPR and lifesaving techniques and camp management should have a predetermined plan of action in place in the event of accident or illness. Parents are wise to inquire in advance about the camp's emergency preparedness plan and the proximity of camp grounds to hospitals.
Down Time and Relaxation: While kids need to have plenty of time practicing sports related drills, a well run camp also plans some activities that are designed to help kids socialise and relax. Remember the old adage about "all work and no play…"
The Gift of Fitness
Many parents routinely purchase gifts for their children throughout the year – a computer game here and a CD there – without giving much thought to the total amount they are spending, yet when one large expense, such as sports camp, arises, some parents balk at the price. While sports camps (and traditional camps) can be costly, attending can help kids to further their athletic abilities and may encourage their continued participation in fitness related activities. When parents consider the long term benefits that their children can derive from developing a love for sports, the price of a week at sports camp may seem like a bargain.
You might also like...