Bike Riding & Roller Skating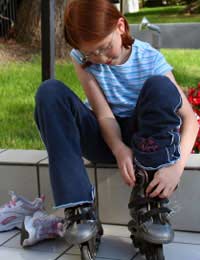 Long before they are teenagers kids can't wait to get their first set of wheels. Most adults look back fondly on their childhood playtimes, roller-skating and riding bikes with siblings and neighbourhood friends, and many of today's kids still enjoy these same pastimes. Considering the quantity of time that some kids spend parked in front of a television or computer screen, parents should do all that they can to encourage their children to play actively. That first set of wheels can be just as memorable for kids today as they were for their parents a generation ago.
Safety First
Years ago, roller-skating and bike riding required nothing more than a willing kid and either a bike or pair of skates, but parents today are likely to express concern over safety issues, wary of their children getting hurt while playing. Some might say that today's parents are overprotective, but when reasonable safety measures are taken, kids are far less likely to suffer injuries. While most injuries are mild scrapes and cuts, some children do suffer broken bones or even head injuries from falls, so safety gear should be purchased at the same time as that new bike, skateboard, or set of roller skates.
The single most important piece of safety equipment is a bicycle helmet, which saves many lives each year. Bike helmets should be properly fitted for each child and if parents decide to hand them down from child to child, caution should be taken to assure that the helmets are in good condition, free of cracks and with all straps working properly. In addition to helmets, many parents recommend knee and elbow pads, especially for beginners or those kids who are inclined to participate in extreme sports.
Rules of the Road
It's important for kids to be familiar with the rules of the road before they are allowed to ride bikes without adult supervision. Traffic patterns can be confusing and although drivers should always be alert for the presence of children, it is not always so. Children need to ride defensively, looking out for possible hazards on their way. Road surfaces that are uneven or slippery can be problematic, so parents should caution kids about riding on gravel, wet leaves, through puddles, or over curbs and of course, they should always be on the lookout for cars! If designated bike paths are available, they are the best choice for riders of all ages, but especially for children.
Family Fun
Parents who engage their children in active play offer their children many gifts. Not only are they showing the kids that exercise is a fun, lifelong practice, but they increase their children's self-esteem by prioritising family time. Bike riding and roller-skating (or roller-blading) are well suited as family activities because they can be enjoyed by many different ages. The very youngest family members can ride safely in a seat attached to Mum or Dad's bike, with older kids pedaling their own bicycles. As children mature, family bike rides can advance from short neighbourhood pleasure rides to full-out fitness rides, covering increasing distances. Roller-skating or rollerblading are also great for families. Several toy manufacturers produce beginner roller skates, allowing parents to lock the wheels so that little ones can get the feel of skates gradually, decreasing the chances of falling. Many kids enjoy roller-skating and while it's probably been a number of years since parents donned a pair of skates, the ability to glide effortlessly returns pretty quickly!
You might also like...