Activity Holidays For Children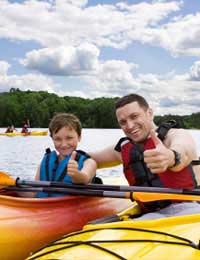 For some people the ideal holiday requires nothing more than a poolside room, a comfortable chair, and a good book. Others, however, prefer to take a more active approach to vacationing. Families are increasingly choosing to plan fitness holidays, or at least trips where activity and physical exertion are part of the fun.
Camping and Hiking
Camping holidays are popular with families for a variety of reasons. Typically, they are more affordable than other types of trips, which can be an important consideration for growing families. Also, most children have a natural love and appreciation of the outdoors, making camping a family favourite. Finally, while some holiday options offer activities that appeal only to certain age groups, camping and the activities typical to camping trips are pleasurable for people of all ages. The opportunities for healthy exercise are abundant on camping holidays. Raising a tent, gathering firewood, and nature hikes are not only fun, but healthy as well!
Adventure Holidays
For most people, going on holiday offers the opportunity to break away from daily routines and try new things. Families can choose from a variety of adventures that go from mild to wild. Bicycle tours and horse riding adventures are sure to appeal to many families, while more daring groups may prefer to try rock climbing, scuba diving, or even dog sledding while on holiday. Selecting an adventure vacation can be a family decision, with all members offering suggestions and then narrowing the choice to the one that the group finds most interesting. Some possibilities include:
Archaeological Tours
Cross Country Skiing
Dude Ranches
Hiking and Trekking Tours
Horse Pack Trips
Kayaking
Sailing
Snowmobiling
Surfing
Whitewater Rafting
Volunteer Vacations
An increasing number of families are using their holidays to benefit others by volunteering their time for a cause that they find meaningful. These types of trips are usually active in nature, so they are beneficial to participants in many ways. Whether planting trees or helping to build houses for underprivileged families, people who spend their vacation time helping others get much more than a good physical workout. Parents can help their children to understand the importance of reaching out to others in need, possibly sparking a continued interest in community service. There are lots of organisatons that are always happy to help willing participants find just the right volunteer opportunity. At the end of such a life-changing holiday, families are sure to go away with far more than a great tan and a pile of photographs.
Close to Home
Staying active on holiday doesn't require traveling to faraway places. Many people find that while they have spent many vacations exploring other countries, they've never really been a tourist in their own backyards. Planning a series of day trips exploring the museums, parks, and historical sites near home can be a wonderful, active holiday. City dwellers may want to head out into the countryside for hiking and biking fun, while those who live in rural areas can enjoy walking tours of the cultural offerings of the city. In either case, just getting away and spending time together as a family, especially when an emphasis is placed on activity, is sure to make the trip a healthy and happy one.
You might also like...