PE: Why all Round Fitness is Not Always the Outcome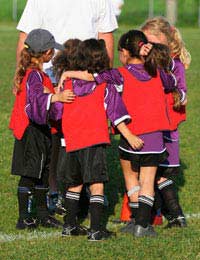 Many column inches have been devoted to how much exercise children should do, and successive Governments have tried to establish a balance between children getting enough compulsory PE and too much forced exercise. But now, new comments from the British Association of Sports and Exercise Medicine have suggested that school PE is not a good way for children to get the recommended thirty minutes of moderate to vigorous exercise a day – findings which could alarm many parents who rely on school PE as a way of their child getting their daily exercise.
What's Wrong with PE?
Doctors from BASEM found that because of the way in which PE is organised and run in most schools, children end up doing a lot of standing around and actually very little movement and exercise. Of course, PE should teach children the nuances of different games as well – but it would be reasonable to expect that they be burning some calories at the same time. As well as fitness and fat fighting, a good workout can help coordination, agility and strength – so it does seem that there are many ways that a good workout helps a child's development.
Five in Five
Instead of traditional PE lessons, the association has suggested that schools could use a method of teaching PE called five in five. This method sees children doing a series of short exercises which give them five different ways to exercise in five minutes. There is no guidance from the Government on how schools should approach PE, only what the minimum amount of time spent on PE should be.
The BASEM-endorsed five in five programme has been developed by a top sports coach, Kevin Giles. He said that in a typical 40-minute school PE lesson, children's heart rates are only being raised for about eight minutes – leading to what he describes as a catastrophic level of fitness amongst children. His five in five routines can involve rotations, lunges, squats and all manner of other exercises designed to improve the children's strength, stability, posture and overall fitness.
Why the Five in Five System Works
Dr Richard Budgett, BASEM's chairman, said that traditional PE lessons did not engage children who may not enjoy sport. He said a child who was not a natural athlete would not want to partake in PE lessons – but by using a scheme such as the five in five programme, they may well be inspired to try a different type of exercising. As the five in five programme teaches all aspects of fitness, including strength and stability, children who start it early are more likely to keep doing the exercises as they get older – which could well help them avoid serious problems with their joints and limbs as they grow up.
At its annual conference in 2010, BASEM said all schools should incorporate the programme if children were to get fitter. It wants the Government to make the scheme mandatory in schools. Although there are no set guidelines at the moment, as the new coalition Government reviews what is taught in schools and how – maybe the time is right for a change to that rule.
You might also like...