Exercise Videos for Kids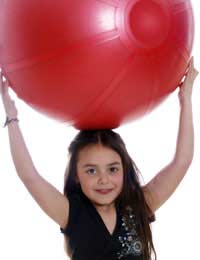 Kids love videos but their parents often worry that the time spent watching videos could be put to better use running and playing, getting exercise that is vital to their healthy growth and development. While smart parents are right to promote and encourage active play, well chosen videos can add to their children's activity levels, making these videos popular with children and parents alike.
Beyond Movies
When we think of videos for kids, we often envision cartoons, children's films, or other movies asking nothing more from viewers that their attention. Due to increasing parental demand, however, many manufacturers are now producing active videos for children, similar in nature to the exercise videos for adults that have been around for decades. Kids of all ages can stretch, dance, wiggle, perfect movements specific to their favorite sport, or learn proper yoga poses, all from the comfort of their homes. Busy parents find these videos especially useful when the weather is less than welcoming for outdoor play. Exercise videos are available for kids of all ages, from toddlers to teens, and even for those among us who are merely kids at heart.
Toddler and Preschool Exercise Videos
The littlest viewers are interested in active play rather than exercise that require specific skills. They like to jump and twirl, and when their favourite characters from television are hosting, all the better. The producers of many kids' shows are now getting into the growing home video market, many offering fun and silly songs and dances, just perfect for toddlers, preschoolers, and their parents.
Exercise Videos for Older Kids and Teens
Exercise videos are available in countless numbers for kids and teens, with everything from dance to martial arts instruction readily available. Interested kids can learn ballet, jazz, tap, hip hop, and even hula dancing by following along with exercise videos. Sports-minded kids can find baseball, basketball, soccer, golf, football, and gymnastics videos, helping them to learn about their favourite sport and practice the moves specific to it. Karate, tai chi, yoga, aerobics, Pilates, and other workouts popular for adults are also available in kid-versions, with gentle instruction designed to guide kids toward fitness for life.
Finding Balance
Exercise videos can provide kids with a way to meet their daily exercise needs, which far too many kids today rarely do. Experts recommend a minimum of one hour of daily active play for children, with additional time preferred. Studies indicate that many kids spend very little time moving their bodies, with traditional videos, television viewing, and computer time taking up much of their spare time. Ideally, parents should make time to play actively with their children, going for walks, riding bikes, and scheduling outings that get the family moving. Realistically, though, even the most fitness dedicated families will have times when it is not convenient to head outside for a fresh air workout, so videos can come in handy as a back-up plan. Additionally, when kids are introduced to new dances, sports, and workouts by moving along with exercise videos, they may just come across a few that spark further interest. While parents may be hesitant about their kids watching too many videos, exercise videos may be the exception to the rule.
You might also like...