Exercising Indoors: How to Exercise When It's Raining
By: Suzanne Elvidge BSc (hons), MSc - Updated: 20 Dec 2012
|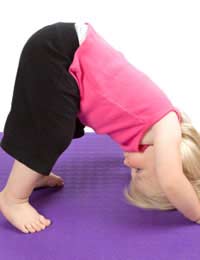 It's raining outside – is that a good excuse not to do any exercise? Not at all – there are plenty of exercises that are perfect to do indoors.
Weight Training
Weight training works just as well indoors or outdoors, and are good for toning up muscles. Weights can be expensive, but DIY versions can be just as good, such as plastic milk bottles or fabric conditioner bottles filled with rice, sand or water (see 'DIY Exercise').
Floor Exercises and Jumps
There are all kinds of floor exercises and jumps that work well indoors – sit ups, press ups, squat thrusts and star jumps.
Step Exercise
Step aerobics is very popular and is a good energetic workout. Step up and down the bottom two steps of the stairs in time to music.
Juggling
Juggling is good exercise for the arms, and helps with co-ordination and balance too, so it's good exercise for the brain as well. Use three balls, three small bags filled with rice or three oranges. It's harder to juggle three things of different sizes or weights, and don't try anything fragile, like eggs, until you've had lots of practice.
Balancing
Balancing is good for co-ordination, and makes the leg muscles and core muscles (the muscles that support the stomach and back) stronger. Often, it's easier to balance on one leg than the other. Start by lifting one foot just up off the floor and slightly behind, hold the arms out for balance, and stare at a spot on the wall at eye level. As it gets easier, lift the foot higher and further behind, or up in front or to the side. Once balancing on one leg is easy, try it with closed eyes.
Skipping
Skipping is a great aerobic exercise, but it does need somewhere with quite a high ceiling. Not got a skipping rope? Use a length of soft rope.
Dancing
Put some music on the radio, television or mp3 player and get dancing – the faster and more energetic the better.
Stair Climbing
Stair climbing is a good cardiovascular workout. Climb the stairs quickly one at a time and then two at a time (but don't fall down…)
Hula Hoops
Using a hula hoop tones up muscles and gets the heart rate up. Put the hula hoop around the waist, holding it against the back, throw it sideways, and wiggle the hips and waist in a circle to keep the hoop going – it's much easier than it sounds. See how long it will keep going. As it gets easier, try doing it for longer, using a heavier hula hoop, or even trying two at once.
Use an Exercise Video
There are exercise videos on just about every kind of exercise – yoga, Pilates, aerobics, dancercise, belly dancing, kick boxing – you name it, there will be a video on it. Just make sure there is plenty of room to move about!
Housework
Housework is good exercise – sweeping, dusting, polishing, vacuuming, tidying, even making the bed – and thinking of it as a workout might make the time go faster.
You might also like...