Teaching Children When it is Appropriate to Use Self Defence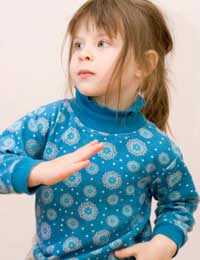 Self defence is a great discipline to instil in your children but there is also a question to be addressed over teaching your children when it is appropriate to use the self defence they have learnt in class. Depending on each individual child, they will interpret their self defence classes in different ways and their age will also become a factor. And there will be different things to take into account such as whether the child has siblings, is prone to temper tantrums – and dozens of other variables which will affect how you teach your child when it is appropriate or not to use their self defence skills. But it is certainly a conversation which needs to be had to ensure that your child's self defence classes continue to be an asset rather than a liability.
At School
Of course, one of the reasons behind your decision to send your child to self defence classes may be that they are getting bullied at school. But it is important to remember that the main reason they will benefit when it comes to bullies is through confidence and a raised self esteem rather than actually learning skills to fight bullies.
Therefore, it is vital that children learn that what they do in class, with an experienced instructor should never be tried out at school. They should be encouraged to stand up to any bullies but never to use physical violence towards them – or someone could end up getting seriously hurt and it may well be your child.
With Siblings
Of course, when children are playing with their brothers and sisters, the temptation for them to try out their new found skills will often be too much. And, if they are siblings who argue – and find a pair who don't – then the dangers of them using these skills are all too clear. An added complication is if your children are attending self defence classes together, they may well decide to practice at home.
Both of these things should be discouraged and your child told that it is simply not safe for them to do any of this. Practicing a musical instrument or kicking a football at home may be a good idea but with self defence and martial arts, it is far better to be left to class when there is a qualified instructor on hand to show how it's done.
Stranger Danger
The one place where you can teach your child that it is appropriate to put their skills into action is, of course, if they are approached by a stranger. Hopefully it will never happen to your child, but if they have some self defence skills at their disposal, you will feel a little happier when it becomes time to untie the apron strings and let your child out on their own.
Self defence should be just that – looking after yourself in dire circumstances. Children need to be taught that these dire circumstances are actually very unlikely to happen, and certainly do not include scuffles at home or school. But just knowing the skills should make them a more confident individual – and certainly make things like bullying less common, even without your child lifting a finger.
You might also like...