Mummy and Me Classes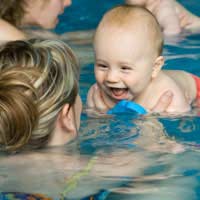 Kids are natural movers and shakers; even the littlest ones love to sway and bounce, especially when they are being held and played with by their parents. Smart Mums take advantage of their children's innate desires to play actively and look for opportunities to introduce their little ones to active lifestyles, right from the beginning. Enrolling in "Mummy and Me" classes offers parents and tots the chance to play, as well as to form social connections.
Activity is Healthy
A few generations ago, most children got plenty of exercise, but this generation of kids is far more sedentary than their parents and grandparents were. Unfortunately, this trend toward inactivity is costly and today's kids are increasingly overweight, with many showing signs of diseases normally not seen in youngsters. Hypertension (high blood pressure), heart disease, and type 2 diabetes are all on the rise in children, with medical experts attributing the increase to poor dietary choices and a lack of exercise. Childhood obesity is becoming commonplace, but with simple lifestyle changes, today's kids can return to robust health.
Meeting Other Mums and Kiddies
In addition to providing physical exercise, Mummy and Me classes give mothers the chance to meet other mums with kids similar in age to their own. This socialisation is often welcomed by mums, who may feel a bit isolated once they are home with their young children. It's also good for the children to meet one another - babies and young children can benefit from early socialisation, helping them to gain confidence around peers. When brought together for fun and exercise, children often lose some of the awkward shyness that they may feel in other settings.
Fitness is Fun
While young children likely get sufficient exercise during their daily activities, enrolling them in Mummy and Me classes gives them their first introduction to "organised" sports, though most play in these types of classes is rather free and individual. Learning to associate laughter, fun, and socialisation with physical activity helps kids to establish lifelong exercise habits, which can start them on a path to long term health.
Parents should try to choose activities with small class sizes in the beginning so that very young children do not feel overwhelmed by crowds of people. Lessons that include music are often enjoyed by small kids (and their Mums!), with an emphasis on fun and movement, rather than proper form. "Tiny Tots Tumbling" is popular as a first class choice, as are baby or toddler swim lessons. When parents are encouraged to participate alongside their children, the kids learn that fitness is fun for people of all ages.
Parents who wish to raise active, healthy kids who have an appreciation for physical fitness should start as soon as possible - the lessons that kids learn early seem to stay with them throughout their lives. It's much easier to instill good habits right off than it to convince preteen couch potatoes to trade their video games for bikes and roller-blades. Babies, toddlers, and preschool aged kids still think that Mum and Dad are cool; they still view their parents as fun playmates. Smart Mums (and Dads, too!) take advantage of their young children's cooperative nature to plant the seeds of physical fitness. A few Mummy and Me classes may just blossom into a bumper crop of fit, healthy kids who will love exercise for life.
You might also like...