Tiny Tots Tumbling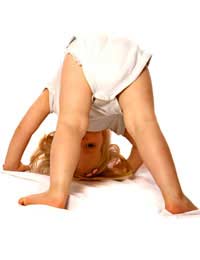 Encouraging little children to find activities and sports that they enjoy can help them to develop healthy exercise habits in both the short and long term. Tots Tumbling type sessions offer toddlers and preschoolers an introduction to gymnastics while maintaining a noncompetitive, playful atmosphere.
Healthy, Active Play
Most kids are happy to run and play; boisterous activity is natural for them. Smart parents encourage their children's active natures, rather than reprimanding them for their energetic quality. Squelching young children's desires to toss and tumble, only to argue with them years later to get up off the sofa and get some exercise doesn't make a whole lot of sense. It is much easier to develop sound habits early rather than trying to undo poor practices later.
Enrolling Kids in a Tots Tumbling Class
While many parents are quite capable of teaching their little ones a few basic tumbling moves, most also agree that their kids can benefit from participating in organised tumbling classes. Instruction for young children typically focuses on fun and socialisation, rather than on form, but children who are enrolled in Tiny Tots Tumbling classes are sure to learn the proper way to perform a number of introductory gymnastic exercises.
Parents who are looking for Tiny Tots Tumbling instruction for their children should first check with friends and family members who may be able to offer personal recommendations. Previous students will have first hand knowledge of the teacher's personality, patience level, knowledge of gymnastics, and ability to give each child positive attention. Since for many kids, Tiny Tots Tumbling is their initial foray into not only sports, but "school," so it is important that they go away with a good impression.
Baby Gyms
Grandparents may shake their heads at the notion of enrolling small children in gym classes since they were all but unheard of in their generation, but today's busy parents may find it beneficial to carve out blocks of time for their family to exercise. Sometimes, the best way to ensure consistent participation is to make a commitment to activity by joining a family gym. So while Grandma and Grandpa may offer reminders that the last generation of children seemed to be active without parental prompting, the fact remains that in today's environment of sedentary, overweight children, parents are wise to do anything that they can to get their children up and moving about.
Having Fun and Getting Fit
Small children do not think in terms of "fitness," nor should they. They do, however, appreciate running, jumping, climbing, twirling, leaping, and tumbling. What they don't realise is that these pleasurable childhood activities are much more than immediate fun; they are the building blocks of healthy futures. Parents can make Tiny Tots Tumbling, their children's first fitness classes, memorable and fun by:
Choosing a gym that is clean and well maintained.
Discuss priorities with teachers before enrolling children to be sure that the instruction will be relaxed and positive.
Offering sincere praise for effort and hands-on help only when asked.
Practicing the things that are learned in class at home, between lessons.
Getting down on the floor and working out along with the children.
Encouraging laughter and silliness!
You might also like...