The Benefits of Physical Activity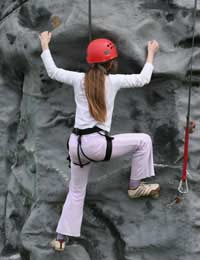 Health care workers are worried and rightly so. Today's kids are heavier than ever before, with childhood obesity posing potential health problems for kids now and even after they grow up. Overweight and obese children are far likelier than their leaner peers to grow into obese adults, and the health ramifications associated with obesity are well known. Heart disease, hypertension (high blood pressure), type 2 diabetes, and even some forms of cancer have been connected to obesity, so parents and others who care about the welfare of children need to do all that they can to help kids understand the importance of staying active and fit.
Short Term Benefits of Physical Activity
Kids and teens often have a hard time thinking in terms of long term consequences, so associating the exercise that they do now with their future health may not provide them with much motivation. It's perfectly normal for kids to believe that nothing bad will ever happen to them, despite their actions, but parents can explain the benefits of keeping active that their kids will see right away, rather than at some future time.
Kids who are active look better - leaner and firmer than their sedentary peers, a fact that older kids and teens may find especially important. Additionally, physical activity boosts energy, helps to alleviate stress and anxiety, and can lift mild to moderate depression, all things that can make life easier for today's busy kids.
Exercise and participation is sports can help children socially, introducing them to new kids and providing many opportunities for involved play. Often, children form their closest friendships with either the kids at school or those who share the same outside interests. Playing a team sport or enrolling in an exercise class helps kids to meet others with whom they have things in common.
Long Term Benefits of Physical Activity
While the short term benefits of physical activity may be the most motivating for kids, their parents know that the lasting effects of prioritising fitness are even more important. Maintaining an appropriate weight helps kids to not only ward off future illness, but may have a positive effect on their self-esteem as well as contributing to the development of a healthy body image. Kids who get plenty of regular exercise grow to be comfortable with their bodies and gain a respect and appreciation for its capabilities. Often, this confidence transfers to other parts of their lives, helping them to excel in many areas. Additionally, friendships formed in childhood sometimes last for years (even lifetimes), so friendships built on the common love of exercise may help kids to have exercise buddies for many years to come, helping both parties to stay healthy and fit.
Types of Fitness
Kids and teens who maintain healthy weights and build lean muscles are showing signs of at least partial fitness, but not all aspects of truly healthy bodies are visible at a glance. Aerobic exercise is vital for long term health, with strong cardiovascular and respiratory systems providing stamina for robust living. Walking, running, biking, or swimming distances are all activities that help to build aerobic fitness. Ideally, kids, teens, and the adults that love them will all make time for plenty of physical activity -- healthy lives depend on it.
You might also like...