The UK Obesity Crisis: Overweight Children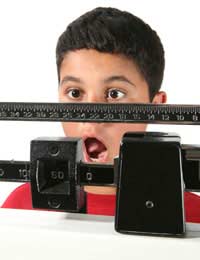 New figures have been released which show that the obesity crisis among children in the UK is getting worse, despite a concerted effort to half the tide of overweight youngsters. An addiction to fast food, computer games and an increasingly risk averse culture has already been credited with causing the weight of Britain's youngsters to soar. But now the new figures have shed light on the current situation and suggested that perhaps the problem is getting worse – despite a wide range of initiatives designed to help families to get fitter together.
Who Collected the Data?
The data, revealed in February 2011, shows that as many as one in four of the UK's primary schoolchildren are overweight when they actually start school, aged just four years old. The figures have been revealed by the National Child Measurement programme, which weighs all children when they start school in a bid to be able to advise parents on whether their son or daughter is the correct weight for their age and height. The children are then weighed again on leaving primary school at age eleven. But parents can withdraw their child from the scheme and do not have to have them measured – which means that some children, possibly the biggest, have not been included in the figures and the true proportion of overweight four-year-olds could be higher.
Leaving Primary School
But the data makes for stark reading as it is – with it pointing towards one in three children being overweight when they go to secondary school, by which time they will already be at serious risk of being an overweight adult and the associated long-term health problems which come with obesity. The scheme showed that almost exactly one third of eleven-year-olds are 'too fat' when they leave primary school - a rapid rise on 31 per cent just four years ago. The situation is worse for boys than girls, with 20 per cent of eleven-year-old boys been deemed obese – not even just overweight – and 18.7 of girls.
Health Issues
And already, children are developing health problems more usually seen in adults heading towards old age. Children have been diagnosed with high blood pressure, cholesterol and even type 2 diabetes as a result of their diet, with some doctors warning patients as young as 15 that they are running the risk of heart disease.
The National Obesity Forum's Tam Fry warned that promises from the UK authorities that childhood obesity was not getting worse had been left wanting.
She added that until the Government put in place measures for all children to arrive at school with a healthy weight, obesity rates would increase.
The measurement programme has not been without its critics – with many people saying it is unhelpful and unhealthy to allow children so young to be worried about their weight. But whether you agree with the way the scheme is conducted or not, the data dopes not lie. And while some children will be bigger or heavier for their age without being overweight, it does not follow that this would account for such high numbers of overweight children. The nation's reliance on fast food and easy meals has to stop before all children start to suffer as a result.
You might also like...