Five A Day: What Does it Mean for Kids?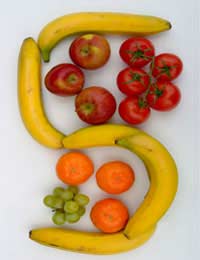 There has been much debate around the issue of five-a-day, what it means and how important it actually is. It is not the intention of this article to look in details at the scientific basis behind the Government's claim that everyone should conform to the five-a-day guidelines – but one thing is not up for debate, and that is that a diet rich in varied fruit and veg is a healthy way to eat. Therefore, when it comes to children, five-a-day is no bad message to live by – so many parents want to know exactly what it means.
What is Included?
This is one question which is commonly asked and applies both equally to adults and children. In terms of what fruit and vegetables are included in the five-a-day lists, the answer is, almost everything. The one major vegetable which does not count is a potato, as potatoes contain mostly starch and therefore are a complex carbohydrate. This means that parents who do not feed their children a healthy diet cannot kid themselves that by giving their children chips and crisps, they are adding to their five-a-day.
Other than this, most vegetables and all fruit count – even veg which are similar to potatoes, such as sweet potatoes and squash. Pulses and beans also count, but due to the types of nutrients within them, only one portion of these will count towards your children's five-a-day, no matter how many they eat. Fruit juice also falls into this category – it counts, but only as one portion, even if you drink gallons of it.
How Much is a Portion?
Another common question, it is not as easy as suggesting that one of everything is a portion. This may work well for apples, but it is also quite obvious that the same rule cannot work for grapes or strawberries. Therefore, a portion tends to count as a volume the same size as an adult fist – or, an apple, a couple of florets of cauliflower, a handful of berries etc. For children, this can be relaxed slightly so they are eating portions more in keeping with their size and stage of growth.
How Do I Make Sure They Eat Them?
The best way to ensure that children are eating their five-a-day is to make eating fruit and vegetables as natural a part of their diet as possible. If they hear you worrying about whether they will eat cabbage, they will know that there is a chance they might not like it. If though, they see it as a normal part of their diet, they will not even question it.
Also, play on the fact that fruit and vegetables are tasty! Don't cook all of the flavour out of them, let them eat raw strips of pepper or carrot and find interesting new ways of using veg. Some people advocate hiding them, perhaps in a curry but then when your child is served them elsewhere they will still be reluctant to try them. Instead, get them to help you make fruit salads and vegetable pizzas where they both see what is going into their food and realise how tasty they are. Above all – make it a natural part of their diet from the very earliest age.
You might also like...