Soccer Mums and Dads: How to Keep Cool on the Sidelines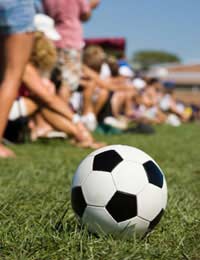 Getting children to play organised sport is great for them on so many levels. It keeps them fit and healthy, teaches them teamwork and gives them a sense of competition. And proud mums and dads will naturally want to watch their son or daughter's progress and matches – but watching and encouraging is where this should end. However, far too many mums and dads cannot separate themselves from the game and become embroiled in either arguments with other parents or the berating of the young players. This has incensed coaches and other volunteers so much that rumours are rife of parents being banned from games. But just how can soccer mums and dads stay quiet on the sidelines?
Silent Saturdays
An American custom which has been mooted in the UK as well is the idea of having silent Saturdays – or any other day on which matches are played – once a month. As the name suggests, the idea behind silent Saturdays is to make sure mums, dads and other supporters do not shout at the players, the coaches or each other. While this cuts down on angry parents provoking each other, some coaches do not like it because of the lack of atmosphere. They much prefer to have cheering and encouragement and believe that cutting out all noise is not the answer. But if the alternative is near riots on the sidelines – then maybe there is no other answer.
Take Up a Sport Yourself
Pop psychology it may be, but many children's sporting activities become displacement activities for their parents – especially if they once harboured dreams of playing sport at a high level themselves. Therefore, if a parent has unresolved sporting feelings of their own, they may be more likely to be overly vocal on the sidelines when watching their youngsters perform. So, the natural answer is to channel that competitive spirit into a sport of their own. There are plenty of sports clubs in every town which allow adults to sign up – the parent may even discover a hidden talent or passion and the child will have much more relaxed support structure.
Talk to Your Children
If you feel your support is becoming a hindrance, or, worse still, the coach has already spoken to you, then the best way to nip it in the bud is to speak to your children. The chances are that they will be embarrassed by your behaviour and therefore, if you speak to them and listen to their concerns, you may find the motivation to tone things down.
Keeping cool on the sidelines is, above all, something which you should be doing for your children. They will love to show off and do well in front of mum and dad and even grandparents but they will not enjoy it if they are having to satisfy you as well as the coach. Therefore, the very best thing you can do for them is to sit back, enjoy the match and cheer them on as much as possible.
You might also like...