Can Taekwondo Make Children Aggressive?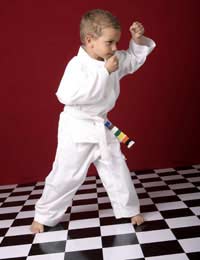 Q.Can you tell me if it is correct to send my grandchild to taekwondo classes? He has already joined but I have heard it may make him aggressive. He was 5 years old when he joined and it has certainly taken away his shyness, but is it alright to continue?
(Mrs Neelum Thomas, 14 September 2008)

A.
In general, martial arts training is designed to be non-violent, teaching kids to channel their natural energies in constructive, healthy ways. Taekwondo, as well as karate, judo, jujitsu, aikido, and kung-fu all focus on both physical and emotional control and development, so with proper training, kids who engage in these types of sports can hope to achieve a good sense of balance and self-control.
As you've already noticed with your grandson, participation in martial arts can help kids to develop confidence and increase their self-esteem. When children improve their social skills and learn to feel capable in one area of their lives, this confidence often spills over into other areas, increasing the likelihood that they will excel both personally and academically. Additionally, as kids progress in their training, many learn to take on leadership roles, helping younger students to master the skills involved in the sport.
Of course, each child's experience is unique and the quality of the instruction can make an enormous difference. It's important to discuss with your grandson the things he's learning in taekwondo class, and to intervene if you feel that his teachers are putting too much emphasis on competition, rather than on improving skills and developing confidence. At his age, the focus should be on fun and sportsmanship, rather than on 'winning'.
By keeping a close eye on your grandson's attitude and demeanour, you will be able to gauge whether or not his taekwondo training is having a positive influence on him. If the time comes when you feel that he's reacting poorly to the classes, you have a few choices. You may want to look for a different facility that emphasises qualities that better reflect your family's values, or you may prefer to encourage him to participate in a different sport. In any case, please continue to see that your grandson engages in some type of daily exercise; many of today's kids are far too sedentary, which puts them at risk for a number of conditions, including obesity, hypertension (high blood pressure), cardiovascular disease, and diabetes. Keeping your grandson active will help him to maintain his physical health and can also help him to cope with stress – especially important in today's busy world!
You might also like...