Exercise for Stress Management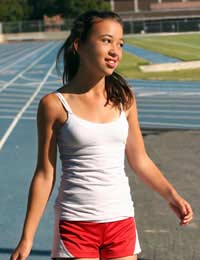 Today's teens often feel overwhelmed by their many commitments. School assignments social engagements, family responsibilities and the demands of part-time jobs are typical for most teens, with many more adding an extracurricular activity such as music or sports to the blend. When you add up all that they have on their plates, teens are often some of the busiest people in their families. Finding ways to manage their daily commitments without letting the pressures become troublesome can require some creative scheduling and prioritising, but it can be done.
What Causes Stress?
When we are feeling stressed, our bodies gear up to meet challenges by producing the hormones adrenaline and cortisol. These hormones speed up heart rate, increase respiration, and raise blood pressure. Muscles are alerted to be ready for action, pupils dilate, the liver releases some stored glucose to provide an energy boost, and perspiration increases. This stress response is perfectly healthy as a response to short term stressors such as asking someone on a date, preparing for an important test, or stepping up in front of the class to deliver a speech. Sometimes, though, stressors are ongoing, causing the body to release stress hormones for extended periods of time, which can take its toll on health and well-being. Family troubles such as divorce, or personal issues such as being bullied, relationship trouble, or simple over-scheduling can be causes of ongoing stress.
Signs of Stress
Often, adults are aware that their overwhelming feelings stem from stress, but teenagers may not yet have learned to associate their physical and emotional symptoms with the things that are going on in their lives. Excess or mishandled stress can manifest itself in a number of ways, including:
Physical Signs of Stress

Frequent headaches
Rapid or racing heartbeat
Stomachache and/or changes in bowel habits
Increased urination
Perspiration
Skin rashes
Emotional Signs of Stress
Nervousness, free floating anxiety, or anxiety attacks
Forgetfulness
Angry outbursts or overall impatience
Depression
Nightmares and/or sleeplessness
Inability to concentrate and study
Exercise for Stress Relief
A certain amount of stress is good, but too much can not only be harmful to long term health, but can make daily life feel like a chore. Parents should look for signs that their teens are under too much pressure and then help the kids to find ways to manage their stress. A healthy diet is important, as is having someone to talk to and getting adequate rest. Exercise, though, can be one of the best ways for teens (and the rest of us) to manage stress, offering the benefit of healthy bodies and healthy minds. Experts agree that regular exercise can:
Relieve anxiety and mild to moderate depression
Promote sound, restful sleep
Improve mood by releasing endorphins ("feel good hormones") into the bloodstream.
Provide an outlet for frustration and anger (high energy exercises such as kick-boxing work best)
Improve confidence and body image, which are issues that teens often grapple with
Increase a sense of calm (running and cycling are especially good for this -- the prolonged nature of the workout allows time for the mind to relax)
Improve the immune system, lessening the chances of getting colds, flu, etc.
Making Time for Exercise
While it may sound counterproductive to recommend that overstressed teens make time in their already overscheduled lives for exercise, the stress relieving qualities of regular exercise cannot be overstated. Even small changes can make a difference, with just 30 minutes daily of focused, high-energy activity having a positive impact on stress levels. Ideally, teens should dedicate an hour every day to such activity in addition to finding ways to make their everyday activities more physical. Walking or biking instead of driving, choosing to take the stairs whenever possible, and doing chores such as washing the car or walking the dog are all ways to increase daily activity levels. And teens should learn that when stressful moments present themselves, exercise can help them to relax and clear their minds. When they feel overwhelmed and are tempted to shout or grab a sugary snack, they'll find that filling up a water bottle and taking a ten minute walk is much more effective.
You might also like...