Activities for Teens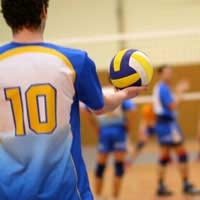 When they are young, kids exercise without giving it a second thought. Running and playing come naturally, and children are happy to engage in active play throughout the day. As they mature, though, most kids trade their bikes for cars and give up many of their childhood games. Unfortunately, this lack of natural play can lead to weight gain, loss of muscle tone, and over time, health problems. Finding ways for teenagers to remain active is important and parents should make every effort to keep their teens actively involved in fitness.
Team Sports
Many schools and community centers offer opportunities for teenagers to participate in team sports. While not every kid is destined to be a star athlete, all can benefit from regular exercise, so signing up for softball, swimming, basketball, or other sports can be great for teens, not only physically, but socially as well. The camaraderie can help teenagers to strive for excellence, boosting their fitness goals to levels that they may not attain if working out solo. While excessive competition may be detrimental, a little healthy rivalry can serve kids well. Parents should encourage, but not force their teenagers to take advantage of opportunities to join athletic groups at school. There is no need to demand that kids participate if they are truly uncomfortable with the idea, but it is imperative that they get some type of regular exercise, and school sponsored sports provide convenient opportunities for teens.
Life Sports
The teenage years are often a time of self-discovery and teens who are exposed to many different sports are likely to find one or two that they really enjoy. The term "life sports" refers to those that are typically enjoyed all throughout the life span, such as swimming, tennis, or golf. Fostering an interest in these types of activities is especially wise since kids are likely to continue participating long after they've grown and begun families of their own. Fitness is an important component to an overall healthy life, so parents should try to help their teens to find an activity that speaks to them.
Following the Trends
Teenagers tend to follow trends, which can be troublesome for parents at times. Smart parents, however, may choose to take advantage of the fact their teens are easily influenced by the choices of celebrities. While no one wants to see their teens follow the examples set by certain stars (we all know who they are), there are a number of celebrities who pride themselves in maintaining healthy, active lifestyles. Young teens who express an interest in yoga, Pilates, ballet, or tai chi because their favorite stars keep in shape with those workouts have found a way to make celebrity admiration a good thing. These same celebrities often follow healthy eating plans to keep them in top condition, providing great examples for impressionable kids.
Everyday Exercise
While working out is important, some teenagers (and adults, too) are simply not going to exercise for the sake of fitness, no matter how much prompting they get from friends and family members. For some, athletic endeavors are not pleasurable. While it doesn't particularly matter if teens develop a love for sports, it is important that they find ways to incorporate regular activity into their lives. Walking provides enormous benefit, but unlike a generation ago, many parents choose to drive their kids and young teens to their clubs and activities, rather than expecting them to walk. Today's kids have come to expect this type of convenience, but the cost to their health should make parents reconsider the practice. With just a pair of good, supportive shoes, teens have all that they need to walk their way to good health.
Bonding Through Activity
Teens are notoriously quiet about their personal lives, much to the disdain of their parents, but many find that the best way to get teenagers to open up and talk is to participate with them in a shared activity. Conversation often comes easier when teens and parents are engaging in casual chat as they enjoy leisure time together. Working out or playing a sport with their teen can help parents to spend quality time keeping healthy connections now, as well as building a base of common interests that will help keep those bonds strong in years to come.
You might also like...